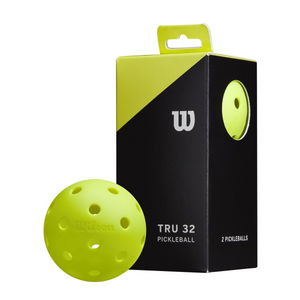 MI Best Tennis
Wilson TRU 32 Pickleball
Sale price Price $5.99 Regular price $3.75 Unit price / per
TRU 32 sets a new standard for true pickleball performance.  Additionally, to mitigate the limited durability of injection-molded balls, TRU32 comprises an innovative proprietary formula that impressively extends the court life of the ball.
- Most consistent flight ever.  Patented 32 evenly spaced hole design
- Uniform construction.  True bounce on every shot
- Rough dynamic surface.  Ideal for outdoor play.
- High visibility.  Neon yellow for easy tracking.
- Made in the USA and approved by the USAPA for competitive play